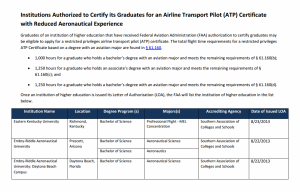 The Federal Aviation Administration (FAA) this week issued the first Letters of Authorization for universities to make their graduates eligible for an airline pilot certificate under FAR 61.160.
It is a short list of lucky firsts:
Eastern Kentucky University
Embry-Riddle Aeronautical University
University of North Dakota
These three universities can now officially certify graduates as qualifying for a restricted privileges airline transport pilot (R-ATP) check ride.  Without such certification, pilots are required to meet a new minimum experience level of 1,500 flight hours before working at an airline.