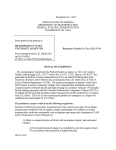 The Federal Aviation Administration (FAA) this week denied an exemption to the Metropolitan State University of Denver that would allow graduates of Part 61 flight training to become eligible for restricted ATP (R-ATP) certification.  This is a complete reversal from the decision issued last week to Purdue University.  In denying MSU Denver, the FAA writes, "the relief requested is not in the public interest and would adversely affect safety."
Following that determination is a somewhat bizarre accounting of MSU Denver's aviation program:
The proposed arrangement does not meet the intent of having the ground training integrated with the broader academic curriculum. MSU Denver does not have any control over the curriculum provided by CNCC and the FAA would have no oversight responsibilities with MSU Denver because it does not hold a part 141 pilot school certificate.

The FAA notes that MSU Denver voluntarily surrendered its air agency certificate on April 19, 2013, and stated in its petition that it will continue to conduct training via part 61 vice part 141. Prior to the voluntary surrender of its part 141 pilot school certificate, MSU Denver held approved ground school training course outlines for the commercial pilot certificate and the instrument rating. Without a part 141 certificate, the FAA will not be able to determine if MSU Denver's key personnel, facilities, aircraft, equipment, and training syllabus maintain a training standard that is equivalent to part 141. As stated above, the FAA has determined that meeting the part 141 standards are a necessary component to ensuring proper integration of the ground training with the broader academic curriculum and it enables the FAA to oversee the program and ensure continued compliance with the letter of authorization issued on an established 24-month schedule that coincides with the part 141 pilot school renewal. The FAA has concluded this oversight is critical for assuring that the standards set forth by Congress for a reduction in flight time continue to be met.

The FAA also notes that because MSU Denver previously held a part 141 pilot school certificate, graduates who completed their ground and flight training for their instrument rating and commercial pilot certificate under that training program could be eligible for a restricted privileges ATP certificate with reduced aeronautical experience without an exemption. MSU Denver has not yet applied for the authority to certify those graduates.
This decision is a significant setback for MSU Denver graduates, which creates a bad precedent for regulation of flight training in general.  As stated in its petition, "MSU Denver will no longer be able to support industry needs and educational programming to highly diverse populations with the same viability it has sustained for over 45 years."  If the Part 141 university graduates are unable to qualify for R-ATP certification, then the value of Part 141 training is further reduced at all universities.  Authorization of R-ATP qualification programs began in August 2013 and has reached only 33 States so far, leaving many Part 61 and Part 141 aviation graduates ineligible.