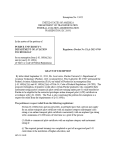 The Federal Aviation Administration (FAA) this week granted an exemption to Purdue University allowing graduates of Part 61 flight training to become eligible for restricted ATP (R-ATP) certification with reduced experience requirements.  This exemption is retroactive.  It is effective for all Purdue graduates from 2009 through 2016.  The R-ATP check rides can be conducted through July 2017.  Graduates are now only required to have an eligibility certificate from the university and a copy of the exemption letter from the FAA.
This exemption marks the first time the FAA has accepted R-ATP applicants who did not complete FAA-approved training under Parts 141 or 142.  The requirement for airline pilots to hold an ATP or R-ATP certificate went into effect August 2013 and made no exceptions for university graduates who completed the same training under Part 61.
Purdue's petition for exemption was dated 24 August 2013.  Petitions from four other universities remain outstanding and were neither granted nor denied.
The FAA gave the following reasons for granting this exemption:
Purdue became a Part 141 flight school on 27 September 2013.
Purdue received authorization to certify R-ATP eligibility on 31 March 2014.
Purdue's Part 141 ground training "is no different" from its former Part 61 program.
"Key personnel, facilities, aircraft, equipment, and training syllabus … also existed when Purdue conducted training under part 61."
Several factors contributed to "an equivalent level of safety … for those who previously completed their ground and flight training."
Previous article: R-ATP Exemption for Part 61 Training