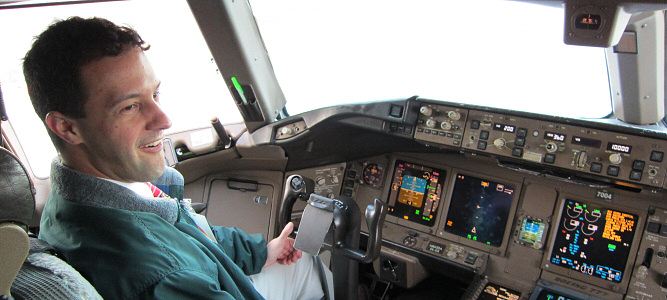 Touring a Boeing 777 in Detroit, December 2012.
Welcome to my new website!  This project will focus on the topics and the professional changes that are more relevant to me today.
I have several goals and projects outlined for CaptainsLog.aero:
Articles from before today were moved here to this new website.

My prog. chart archive now resides here.
The new domain name is a better fit and easy to remember.
New articles will be aviation themed and posted to the front page at least monthly.
I will put more emphasis on professional networking and writing comments on aviation blogs.
My research fellowship will result in an online survey study, which will be available through another new website, to be announced in February.
I will add more personal articles about my experiences in flight training, university life, and career track progress.
You may bookmark and subscribe to this website for reminders to check back soon.  Thank you for reading!