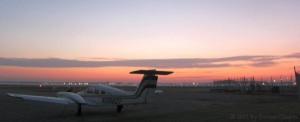 As graduation approaches, I am reflecting more on the university experience, and noticing that it has been a personal success.  I can also look back on some mistakes, and on the successes of my classmates, and see what worked best for all of us.
I've decided to start my articles about university life with a series called the Flight Training Survival Guide.  I found so many ideas to write about that it made sense to break up the guide into individual topics and add them here one at a time.
Some of the advice in this guide is generic, and some of it is specific to Eastern Michigan University (EMU).  I feel this type of advice needs to be neither generic nor specific.  One should consider all information when embarking on the path to becoming a pilot.
Before Your Training Begins …
Are you certain that flying is for you?  It is amazing how many people get this wrong!  Becoming a pilot must be the most important thing that you want to do, more than anything else.  No matter how you go about training and how many resources you start out with, you absolutely must have the unwavering desire, self-motivation, and perseverance to accomplish this goal.
Consider this article about adding some fun to your training.  You will notice it prominently mentions the drop out rate for flight students in the USA, which is around 75%.  University flight programs are no exception to this rule.  My observation of flight classmates at EMU is that most of them are retained by the University within the Aviation Management program, and in non-aviation departments.  Less than half of the freshman flight students will actually obtain their degree in Flight Technology.  But it is important to temper these anecdotal reports with some concrete statistics about the overall student population.  Only 12% of all EMU students graduate within four years, and that number only increases to 40% after six years (Eastern Echo, 2012).
Have you ever been in an airplane before?  Are you willing to borrow money to finance your education?  Do you enjoy summer classes?  Do you enjoy teaching what you learn?  I can't judge students who have no idea what they're getting in to, but I will say this: It is a huge advantage to know what to expect before you get started.
By reading articles like these, a future flight student is already better prepared than many others who show up at a flight school not even knowing where to begin.
My upcoming articles in this series will describe the importance of your introductory flight lesson, how to choose a flight school, and surviving the college admission process.