2016-12-24T14:33:50+00:00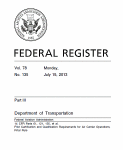 The new first officer qualifications are a hot topic.  On July 10, the FAA released its Final Rule, which should appear in the Federal Register next week.  Everyone has something to say about this.  But opinions aside, all I can I find on the web is the text of the new rule and several paraphrased copies of the FAA press release.
Let's take a closer look at what's inside the 221 pages of the Pilot Certification and Qualification Requirements for Air Carrier Operations.
To get the most important information up front here, I compiled a detailed summary of changes as they would apply to a graduate of a qualifying 4-year degree program.
I also outlined the structure of the Final Rule and noted the page numbers of some important sections.  The small page numbers correspond to the unofficial FAA version, followed in parentheses by the official page number in the Federal Register.  For example: Page 1 (42324).  This will help you to reference either version of the Final Rule.